Paint My Pad painters and decorators in Bradford have vast experience of the painting and decorating children's nurseries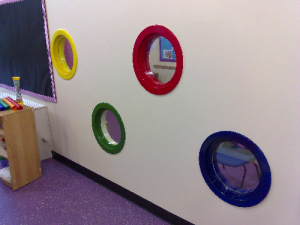 We understand the importance of choosing the right colours to engage learner's minds and studies have shown that certain colour schemes will stimulate creativity.  Our team can create fun spaces, and help in the decision making to give advice on what will work in your particular environment.

We offer a variety of services to fit the needs of your school or nursery
Changing your colour scheme? We recently painted all 57 doors in one corridor to match a local schools new uniform.
We will be there to discuss your needs as well as to provide support and advice before, during and after the work is completed.  We will agree timescales and if necessary the work can be scheduled to be carried out on evening, during weekends or within the school holiday's to ensure there is minimal disruption.
We pride ourselves on our high standards.
To arrange a non obligatory painting and decorating quote or discuss a new project or maintenance contract with us please get in touch.